Protect Your Child–Check the SEX OFFENDER Registries



NATIONAL sex offender registry
MILITARY sex offender registry
Find sex offenders in your neighborhood
LOCATE-BY-STATE sex offender registries
739,853 Registered Sex Offenders (as of 12/2011)—VIEW MAP HERE
Database of UK and Eire paedophiles/child abusers
AUSTRALIA SEX OFFENDER REGISTRY
Office of Sex Offender Sentencing, Monitoring, Apprehending, Registering, and Tracking (SMART)
Mako- International sex Offender Registries/ Databases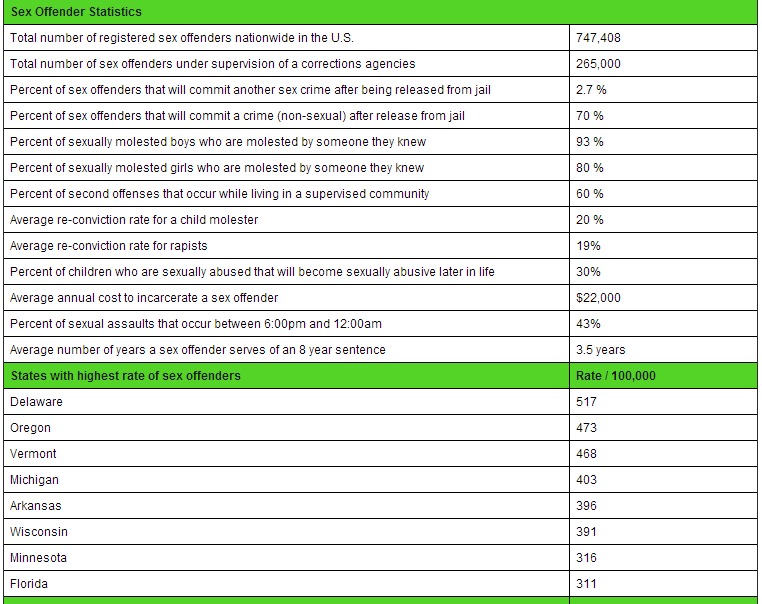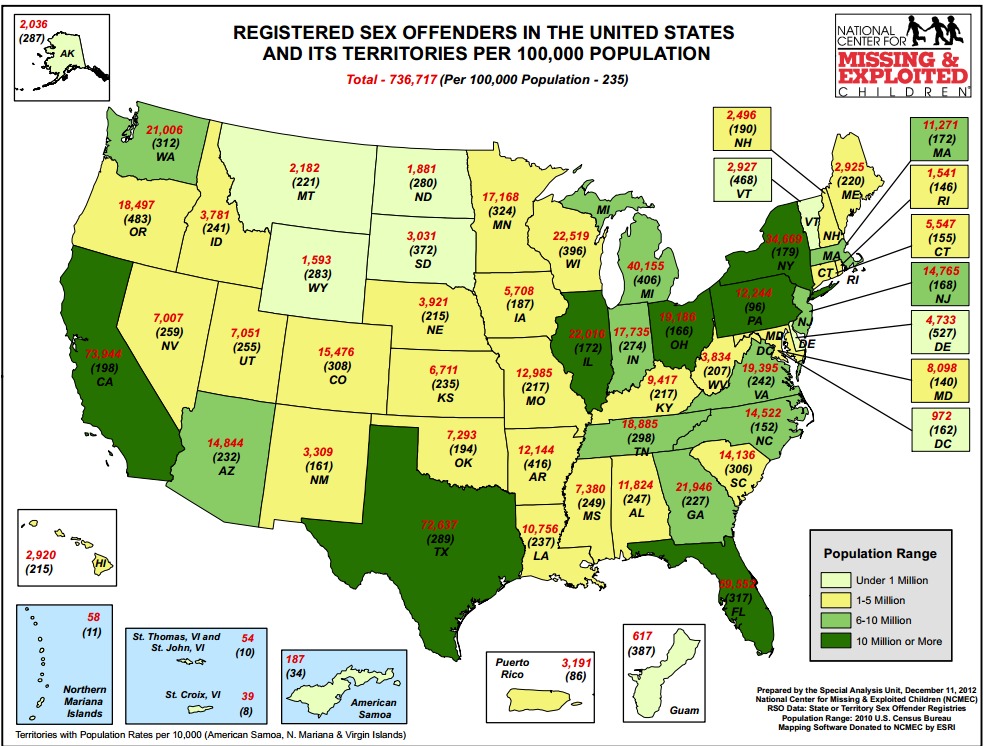 CHILD SEX OFFENDERS
(SOURCE: From Wikipedia, the free encyclopedia)
Pedophilia (or paedophilia) is a psychological disorder in which an adult or older adolescent experiences a sexual preference for prepubescent children.[1][2][3] According to the World Health Organization, 16 and 17-year-old adolescents qualify if they have a persistent or predominant sexual preference for prepubescent children at least five years younger than them.[4] According to the Diagnostic and Statistical Manual of Mental Disorders (DSM), pedophilia is specified as a form of paraphilia in which a person either has acted on intense sexual urges towards children, or experiences recurrent sexual urges towards and fantasies about children that cause distress or interpersonal difficulty.[5] The disorder is common among people who commit child sexual abuse;[6][7][8] however, some offenders do not meet the clinical diagnosis standards for pedophilia.[9] In strictly behavioral contexts, the word "pedophilia" has been used to refer to child sexual abuse itself, also called "pedophilic behavior".[7][10][11][12][13]
In law enforcement, the term "pedophile" is loosely used without formal definition to describe those convicted of child sexual abuse or the sexual abuse of a minor, including both prepubescent children and pubescent or post-pubescent adolescents.[14][15] An example of this use can be seen in various forensic[14] In common usage, the term refers to any adult who is sexually attracted to young children[16] or who sexually abuses a child or adolescent minor.[13][17] training manuals. Researchers recommend that this imprecise use be avoided.
The causes of pedophilia are not known; research is ongoing.[18] Most pedophiles are men, though there are also women who are pedophiles.[12][19][20] Due to the stereotype that pedophiles are always male, it has been difficult to determine the prevalence of female pedophiles; however, studies in the UK and USA suggest that a range of 5% to 20% of child sexual abuse offenses are perpetrated by women.[21]
In forensic psychology and law enforcement, there have been a variety of typologies suggested to categorize pedophiles according to behavior and motivations.[15] No significant curative treatment for pedophilia has yet been found. There are, however, certain therapies that can reduce the incidence of pedophilic behaviors that result in child sexual abuse.
**************************************************************
PROFILE OF A PEDOPHILE
Also known as: child molesters, pedos, perverts, pervs or child sex offenders.
Pedophiles Can Be Anyone:
Pedophiles can be anyone — old or young, rich or poor, educated or uneducated, non-professional or professional, and of any race. However, pedophiles often demonstrate similar characteristics, but these are merely indicators and it should not be assumed that individuals with these characteristics are pedophiles. But knowledge of these characteristics coupled with questionable behavior can be used as an alert that someone may be a pedophile.
Characteristics of a Pedophile :
Often the pedophile is male and over 30 years of age.
Single or with few friends in his age group.
If married, the relationship is more "companion" based with no sexual relations.
He is often vague about time gaps in employment which may indicate a loss in employment for questionable reasons or possible past incarceration.
Pedophiles Like Child-like Activities:
He is often fascinated with children and child activities appearing to prefer those activities to adult oriented activities.
He will often refer to children in pure or angelic terms using descriptives like innocent, heavenly, divine, pure, and other words that describe children but seem inappropriate and exaggerated.
He has hobbies that are child-like such as collecting popular expensive toys, keeping reptiles or exotic pets, or building plane and car models.
Pedophiles Often Prefer Children Close to Puberty:
Pedophiles often have a specific age of child they target. Some prefer younger children, some older.
Often his environment or a special room will be decorated in child-like decor and will appeal to the age and sex of the child he is trying to entice.
Many pedophiles often prefer children close to puberty who are sexually inexperienced, but curious about sex.
Pedophiles Work Around Children:
The pedophile will often be employed in a position that involves daily contact with children. If not employed, he will put himself in a position to do volunteer work with children, often in a supervisory capacity such as sports coaching, contact sport instruction, unsupervised tutoring or a position where he has the opportunity to spend unsupervised time with a child.
The Target Child:
The pedophile often seeks out shy, handicapped, and withdrawn children, or those who come from troubled homes or under privileged homes. He then showers them with attention, gifts, taunting them with trips to desirable places like amusement parks, zoo's, concerts, the beach and other such places.
Manipulation of the Innocent:
Pedophiles work to master their manipulative skills and often unleash them on troubled children by first becoming their friend, building the the child's self esteem. They may refer to the child as special or mature, appealing to their need to be heard and understood then entice them with adult type activities that are often sexual in content such as x-rated movies or pictures. They offer them alcohol or drugs to hamper their ability to resist activities or recall events that occurred.
Stockholm Syndrome :
It is not unusual for the child to develop feelings for the predator and desire their approval and continued acceptance. They will compromise their innate ability to decipher good and bad behavior, ultimately justifying the criminal's bad behavior out of sympathy and concern for the adults welfare. This is often compared to Stockholm Syndrome – when victims become attached emotionally to their captors.
The Single Parent:
Many times pedophiles will develop a close relationship with a single parent in order to get close to their children. Once inside the home, they have many opportunities to manipulate the children — using guilt, fear, and love to confuse the child. If the child's parent works, it offers the pedophile the private time needed to abuse the child.
Fighting Back:
Pedophiles work hard at stalking their targets and will patiently work to develop relationships with them. It is not uncommon for them to be developing a long list of potential victims at any one time. Many of them believe that what they are doing is not wrong and that having sex with a child is actually "healthy" for the child.Almost all pedophiles have a collection of pronography, which they protect at all costs. Many of them also collect "souvenirs" from their victims. They rarely discard either their porn or collections for any reason.One factor that works against the pedophile is that eventually the children will grow up and recall the events that occurred. Often pedophiles are not brought to justice until such time occurs and victims are angered by being victimized and want to protect other children from the same consequences.
Laws such as Megan's Law – a federal law passed in 1996 that authorizes local law enforcement agencies to notify the public about convicted sex offenders living, working or visiting their communities, have helped expose the pedophile and allows parents to better protect their children.
**************************************************************
Child Molester Statistics

"The serial killer has the same personality characteristics as the sex offender against children"
-Dr. Mace Knapp, Nevada State Prison Psychologist.
• "There are 400,000 registered sex offenders in the United States, and an estimated 80 to 100,000 of them are missing. They're supposed to be registered, but we don't know where they are and we don't know where they're living.
Ernie Allen, President of the National Center for Missing and Exploited Children to co-anchor Hannah Storm on The Early Show
• The most serious and chronic offenders often show signs of antisocial behavior as early as the preschool years.
– (American Psychiatric Association, 1994) (was in Juvenile Justice Bulletin: Nov 1998 OJJDP: U.S. Department of Justice)
• Dr. Gene Abel estimates that between 1% and 5% of our population molest children
-CNN Specials Transcript #454-Thieves of Childhood.
• Nearly all the offenders in sexual assaults reported to law enforcement were male (96%).
– Sexual Assault of Young Children as Reported to Law Enforcement, 7/00, NCJ 182990, U.S. Department of Justice
• Overall, 23% of sexual assault offenders were under the 18 and 77% were adults – Sexual Assault of Young Children as Reported to Law Enforcement,
7/00, NCJ 182990, U.S. Department of Justice
• 40% of the offenders of victims under age 6 were themselves juveniles. A similar proportion (39%) of offenders of victims ages 6 through 11 were also juveniles. For older juvenile victims, the proportion of juvenile offenders dropped to 27%.
– Sexual Assault of Young Children as Reported to Law Enforcement,
7/00, NCJ 182990, U.S. Department of Justice
•Adults were the offender in 60% of the sexual assaults of youth under age 12. Rarely were the offenders of young victims strangers. Strangers were the offender in just 3% of sexual assaults against victims under age 6 and 5% of the sexual assault of victimizations of youth ages 6 through 11.
-Sexual Assault of Young Children as Reported to Law Enforcement,
7/00, NCJ 182990, U.S. Department of Justice
• 1 in 5 violent offenders serving time in a state prison reported having victimized a child.
-BJS Survey of State Prison Inmates, 1991.
• 2/3 of all prisoners convicted of rape or sexual assault had committed their crime against a child.
-BJS Survey of State Prison Inmates, 1991.
• Acquaintance perpetrators are the most common abusers, constituting approximately 70-90% of all reported perpetrators.
-Finkelhor, D. 1994.
• 89% of child sexual assault cases involve persons known to the child, such as a caretaker or family acquaintance.
-Diana Russell Survey, 1978
• 29% of child sexual abuse offenders are relatives, 60% are acquaintances, and only 11% are strangers.
-Diana Russell, The Secret Trauma, NY:Basic Books, 1986.
• For the vast majority of child victimizers in State prison, the victim was someone they knew before the crime. 1/3 had committed their crime against their own child, about 1/2 had a relationship with the victim as a friend, acquaintance, or relative other than offspring, about 1 in 7 reported the victim to have been a stranger to them.
-BJS Survey of State Prison Inmates, 1991.
• 3/4 of the violent victimizations of children took place in either the victim's home or the offenders home.
-BJS Survey of State Prison Inmates, 1991.
• Males are reported to be the abusers in 80-95% of cases
-Thoringer, D., et al., 1988.
• About 60% of the male survivors sampled report at least one of their perpetrators to be female.
-Mendel, 1993.
• All but 3% of offenders who committed violent crimes against children were male.
-BJS Survey of State Prison Inmates, 1991.
•The typical offender is male, begins molesting by age 15, engages in a variety of deviant behavior, and molests an average of 117 youngsters, most of whom do not report the offense.
-Dr. Gene Abel in a National Institute of Mental Health Study.
• Offenders who had victimized a child were on average 5 years older than the violent offenders who had committed their crimes against adults. Nearly 25% of child victimizers were age 40 or older, but about 10% of the inmates with adult victims fell in that range.
-BJS Survey of State Prison Inmates, 1991.
• 71% of male offenders are under the age of 35.
-Dr. Ann Burges, Dr. Nicholas Groth, et al. in a study of imprisoned offenders.
• 3/4 of sexual predators are younger than 35. About 80% are of normal intelligence or above.
-Profiles from the FBI Academy and the National Center for Missing & Exploited Children.
• Though officially, not considered abuse, the highest incidence of incest occurs among siblings.
-Waterman & Lusk, 1986.
• Many clinical settings currently are witnessing a dramatic increase in the number of adolescent offenders who have committed sexually aggressive acts against other children.
-Conte, Jon R., 1986.
• While nearly 70% of those serving time for violent crimes against children were white, whites accounted for 40% of those imprisoned for violent crimes against adults.
-BJS Survey of State Prison Inmates, 1991.
• Inmates who victimized children were less likely than other inmates to have a prior criminal record-nearly 1/3 of child victimizers had never been arrested prior to the current offense, compared to less than 20% of those who victimized adults.
–BJS Survey of State Prison Inmates, 1991.
• Violent child victimizers were substantially more likely than those with adult victims to have been physically or sexually abused when they were children..
-BJS Survey of State Prison Inmates, 1991.
• 50% of reported child molestations involve the use of physical force and child molesters produce as much visible physical injury as rapists-39% of victims.
-Dr. Gene Abel in a National Institute of Mental Health Study.
• About 14% of child victimizers carried a weapon during the violent crime, compared to nearly 1/2 of those who victimized adults.
-BJS Survey of State Prison Inmates, 1991.
• About 10% of violent offenders with child victims received life or death sentences and the average prison term was 11 years, somewhat shorter average sentences than received by those with adult victims.
-BJS Survey of State Prison Inmates, 1991.
• More than 1/2 of all convicted sex offenders are sent back to prison within a year. Within 2 years, 77.9% are back.
-California Department of Corrections.
• Recidivism rates range from 18-45%. The more violent the crime the more likelihood of repeating.
-Studies by the state of Washington.
• 3 in 10 child victimizers reported that they had committed their crimes against multiple victims: they were more likely than those who victimized adults to have had multiple victims.
-BJS Survey of State Prison Inmates, 1991.
• Like rape, child molestation is one of the most underreported crimes: only 1-10% are ever disclosed.
-FBI Law Enforcement Bulletin.
• The behavior is highly repetitive, to the point of compulsion, rather than resulting from a lack of judgment.
-Dr. Ann Burges, Dr. Nicholas Groth, et al. in a study of imprisoned offenders.
**************************************************************
It is not enough to shed tears for those who suffer the tragedy of sexual abuse, nor will much be accomplished nurturing hatred and devising punishments for those who sexually abuse. Only by sharing knowledge, providing training, exchanging ideas, and challenging traditional beliefs and biases can we respond effectively to sexual victimization. – Jan Hindman
PLEASE CHECK OUT THE WEBSITES BELOW FOR MORE INFO ON FEMALE OFFENDERS:
******************************************************************************************
CHILD SEX OFFENDER REGISTRIES
**Protect Your Children–Check the SEX OFFENDER Registries!!**

NATIONAL sex offender registry:  http://www.nsopr.gov
MILITARY sex offender registry:  http://www.militarysexoffendersregistry.com/
Find sex offenders in your neighborhood: http://www.familywatchdog.us
LOCATE-BY-STATE sex offender registries:  http://www.fbi.gov/hq/cid/cac/registry.htm
LOCATE BY CITY/TOWN & STATE:   http://www.city-data.com/so/sexoffenders.html
AUSTRALIA SEX OFFENDER REGISTRY
Alabama http://community.dps.alabama.gov/Pages/wfSexOffenderSearch.aspx
Alaska http://www.dps.state.ak.us/Sorweb/sorweb.aspx
Arizona http://www.azsexoffender.org/
Arkansas http://www.acic.org/Registration/index.htm
California http://meganslaw.ca.gov/disclaimer.htm
Colorado http://sor.state.co.us/index.cfm?SOR=home.home
Connecticut http://www.ct.gov/dps/cwp/view.asp?a=2157&Q=294474&dpsNav|
Delaware http://www.state.de.us/dsp/sexoff/index.htm
District of Columbia http://mpdc.dc.gov/mpdc/cwp/view,a,1241,Q,540704,mpdcNav_GID,1523,mpdcNav,%7C,.asp
Florida http://offender.fdle.state.fl.us/offender/homepage.do
Georgia http://www.ganet.org/gbi/sorsch.cgi
Hawaii http://sexoffenders.ehawaii.gov/sexoffender/search.html
Idaho http://www.iowasexoffender.com/
Illinois http://www.isp.state.il.us/sor/
Indiana http://www.nsopr.gov/
Iowa http://www.iowasexoffender.com/search.php
Kansas http://www.accesskansas.org/kbi/ro.shtml
Kentucky http://kspsor.state.ky.us/
Louisiana http://www.lsp.org/socpr/default.html
Maine http://sor.informe.org/sor/
Maryland http://www.dpscs.state.md.us/onlineservs/sor/
Massachusetts http://www.mass.gov/sorb/community.htm
Michigan http://www.mipsor.state.mi.us/
Minnesota http://www.dps.state.mn.us/bca/Invest/Documents/Page-07.html
Mississippi http://SOR.MDPS.STATE.MS.US/
Missouri http://www.mshp.dps.missouri.gov/MSHPWeb/PatrolDivisions/CRID/SOR/SORPage.html
Montana http://svor.doj.state.mt.us/
Nebraska http://www.nsp.state.ne.us/sor/
Nevada http://www.nvsexoffenders.gov/
New Hampshire http://www4.egov.nh.gov/nsor/
New Jersey http://www.njsp.org/info/reg_sexoffend.html
New Mexico http://www.nmsexoffender.dps.state.nm.us/servlet/hit_serv.class
New York http://www.criminaljustice.state.ny.us/nsor/
North Carolina http://ncfindoffender.com/disclaimer.aspx
North Dakota http://www.sexoffender.nd.gov/
Ohio http://www.esorn.ag.state.oh.us/
Oklahoma http://docapp8.doc.state.ok.us/servlet/page?_pageid=190&_dad=portal30&_schema=PORTAL30
Oregon http://sexoffenders.oregon.gov/
Pennsylvania http://www.pameganslaw.state.pa.us/
Rhode Island http://www.paroleboard.ri.gov/sexoffender/agree.php
South Carolina http://services.sled.sc.gov/sor/
South Dakota http://www.dci.sd.gov/administration/id/sexoffender/index.asp
Tennessee http://www.ticic.state.tn.us/sorinternet/sosearch.aspx
Texas https://records.txdps.state.tx.us/DPS_WEB/SorNew/index.aspx
Utah http://corrections.utah.gov/services/sonar.html
Vermont http://www.dps.state.vt.us/cjs/s_registry.htm
Virginia http://sex-offender.vsp.virginia.gov/sor/index.htm
Washington http://www.co.cowlitz.wa.us/sheriff/rso/
West Virginia http://www.wvstatepolice.com/sexoff/
Wisconsin http://widocoffenders.org/
Wyoming http://attorneygeneral.state.wy.us/dci/so/so_registration.html
NSOPW FAQs
(SOURCE:  http://www.nsopw.gov/Core/FAQ.aspx#A1)